OMRAN Group and Omantel Signed Today MoU on Enhanced ICT Cooperation, Sustainability and Knowledge Exchange
24 May 2022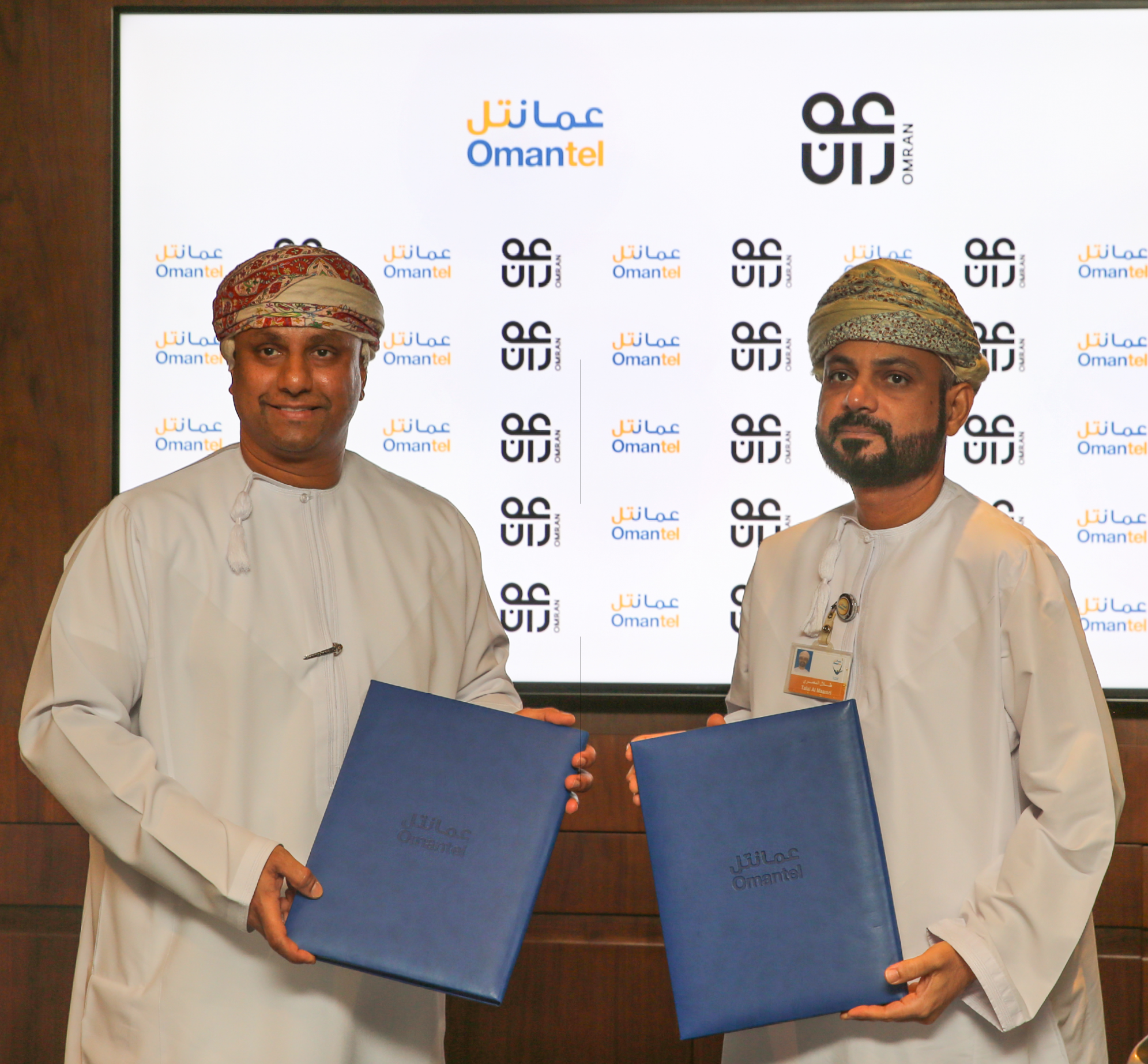 Omantel has entered into a partnership with Oman Tourism Development Company (OMRAN Group) through a Memorandum of Understanding (MoU) to explore opportunities for cooperation in the areas of developing ICT, IT infrastructure, systems and technologies, IoT solutions and mobile communications solutions for the Group's businesses, marketing, sustainability programs and sharing experiences and knowledge.
The MoU was signed at the Oman Convention and Exhibition Center by Talal bin Said Al Mamari, CEO, Omantel and Hashel bin Obaid Al Mahrouqi, CEO of OMRAN Group, and in the presence of a number of officials.
The MoU also covers exploring collaboration opportunities to provide ICT and smart city services at OMRAN Group's various projects, enhancing digital structure and exchange of knowledge and experience between the two companies through opportunities for rotation and on-the-job training. Under the MoU, the two companies will boost cooperation in areas related to marketing, promotion, social responsibility and institutional sustainability.
Commenting on the signing of the MoU, Talal bin Said Al Mamari, CEO, Omantel, said: "Through this MoU, we seek to take our existing cooperation further and explore greater opportunities in providing ICT solutions and services. As part of its strategy and responsibility to enable Oman's digital transformation, Sultanate, Omantel adopts the best international practices and shapes frontier technologies like Internet of Things (IoT), artificial intelligence, integrating them with applications to create smart solutions and services that help the government and the people as per objectives of Oman Vision 2040."
On his part, Hashel bin Obaid Al Mahrouqi, CEO of OMRAN Group said: "This agreement reflects OMRAN Group's vision, which seeks to keep pace with technical development and implement the best innovative digital solutions in the tourism sector. The MoU is in line with the Sultanate's shift towards digital transformation. The OMRAN Group is committed to exploring opportunities to expand business and launch more projects across the Sultanate."
OMRAN Group is implementing plans to expand the tourism sector and achieve sustainable growth through strategic initiatives and partnerships. It also seeks to create more growth opportunities for SMEs and lead to the development of local communities.