OMRAN Group and PDO Sign a Memorandum of Collaboration
20 June 2021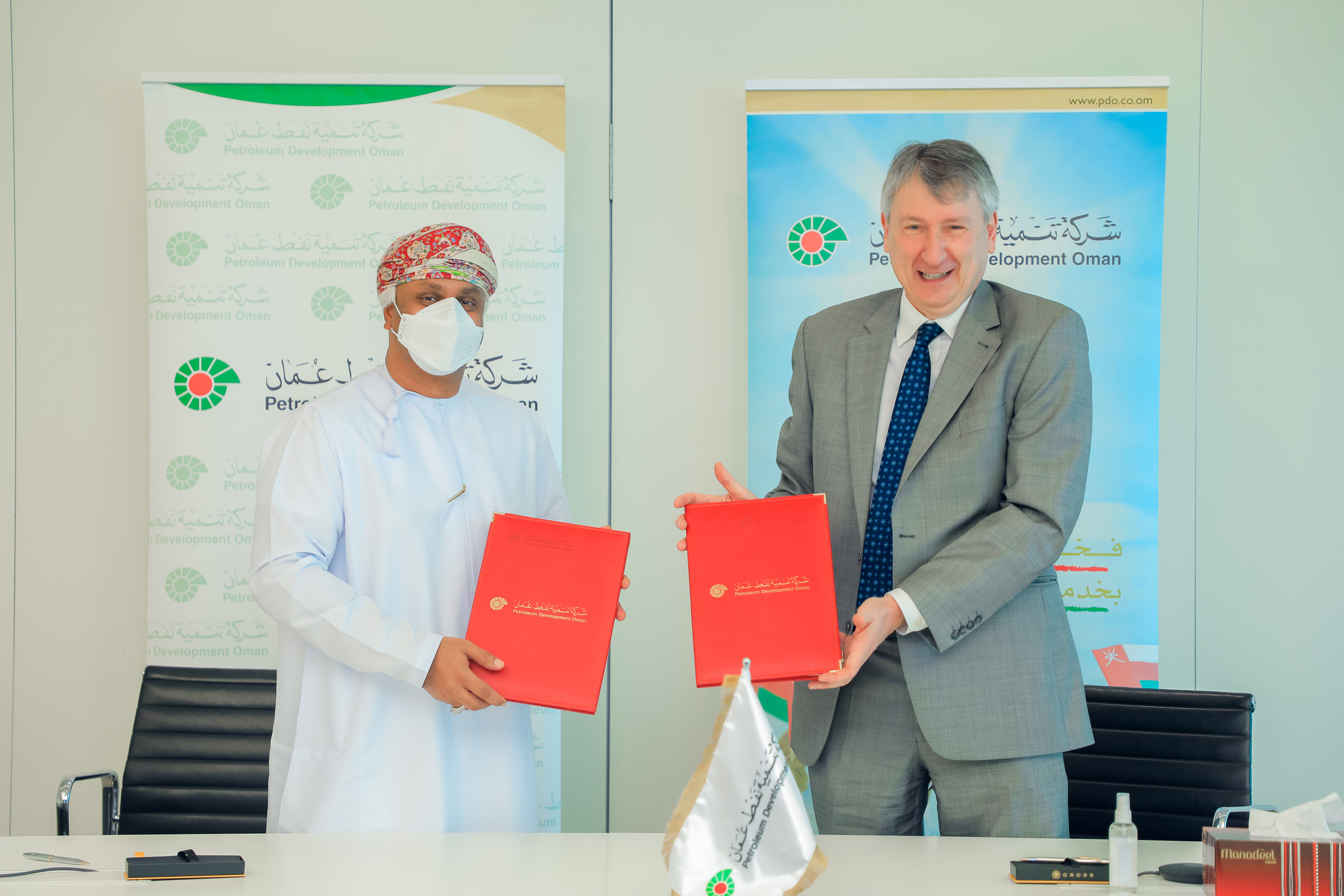 In continuation of the efforts and initiatives aimed at enhancing In-Country Value (ICV), the Oman Tourism Development Company (OMRAN Group) – the executive arm of the Sultanate for tourism development – signed a Memorandum of Collaboration (MOC) with Petroleum Development Oman (PDO) to share knowledge, benefit from PDO's expertise in various fields, including ICV, and explore collaboration opportunities to implement initiatives in the tourism sector.
The agreement also aims to look into potential opportunities to implement strategies and programmes to enhance ICV in order to secure sustainable long-term commercial benefits. Furthermore, it aims at maximising the use of local content, encouraging knowledge sharing to improve the capacity and capability of the local businesses and vendors in the tourism sector, and exploring opportunities to establish local community tourism companies.
In addition, the MOC covers the potential collaboration to support high-potential investment opportunities and related projects in the tourism sector, as well as sharing best practices and experiences in the fields of health, safety, and environment (HSE) and Lean methodology.
The terms of the agreement also include enhancing co-operation in providing training and secondment opportunities for Omanis and supporting PDO's efforts in the National Initiative for Plantation of 10 Million Trees and other environmental related initiatives. It further establishes a potential strategic partnership between OMRAN Group and PDO in the development of Geo-tourism in Oman and the implementation of community programmes to develop tourism experiences with the National Travel Operator "visitoman.om".
Chief Executive Officer of OMRAN Group Hashil bin Obaid Al Mahrouqi  said: "This agreement is in line with OMRAN Group's directions and efforts to enhance the tourism value chain through activities and initiatives aimed at maximising ICV in the Sultanate, which reflects the objectives of the comprehensive ICV strategy that aims to focus on domestic supply chains, empower the national product, and develop local suppliers and contractors, as well as boosting opportunities for local companies and small and medium enterprises (SMEs) in the tourism sector. These also include increasing Omanisation, developing and training national cadres, and activating areas of social investment."
He added: "We are pleased to have signed this agreement with PDO to benefit from its extensive expertise in implementing best practices in ICV. We hope that this collaboration will contribute to transferring knowledge and expertise, in addition to supporting our approach to implement innovative and sustainable projects in the field of ICV in the next stage."
PDO Managing Director Raoul Restucci, who signed the MOC with OMRAN, said: "The MOCs are an example of the continuous collaboration efforts between PDO and its key partners.
"We look forward to working with OMRAN on enhancing ICV in the tourism sector as it is vital that we sustain partnerships across different fields to create benefits for Oman's workforce and economy."
ICV is one of the most prominent modern economic concepts as it is mainly concerned with the circulation of local capital within the country by directing procurement departments in various major companies to local markets, and working to keep investment expenditures within the country, which results in achieving the desired economic and social benefits.
It is worth noting that OMRAN Group owns a wide portfolio of projects, investments, and hotel hospitality assets that cover most of the governorates of the Sultanate. The Group continuously seeks to direct most of its efforts to find effective initiatives aligned with the latest practices in the field of ICV and social investment within the geographical scope of its various tourism projects and assets. That is to increase local spending, support domestic supply chains, enhance partnerships and investment opportunities with the local community, and create direct and indirect job opportunities for Omanis.