OMRAN Group Concludes the interviews and evaluation stage of 'Midhyaf'
22 August 2021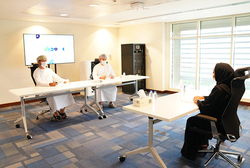 Following the remarkable turnout witnessed by 'Midhyaf' programme in the registration phase with 2,031 applicants, Oman Tourism Development Company (OMRAN Group), the executive arm of the Sultanate for tourism development, concluded the interviews and evaluation phase of the programme at Oman Convention and Exhibition Centre. In the coming weeks, 300 people will be nominated for the final evaluation phase, and hence selecting 148 talents to join in the training programme at Oman Tourism College (OTC) in early September. Upon completion of the training at OTC, participants will get the opportunity to commence on-the-job training in various hotels of the OMRAN Group.
As part of its efforts to provide professional training experiences following international standards to the participants of 'Midhyaf' programme, Oman Tourism College has recently signed a Memorandum of Understanding (MoU) with the British Butler Institute and a training agreement with ZADK Culinary Academy, aiming to implement intensive training courses in specialised areas covered in the programme, including, Culinary, Food & Beverage, Front of House Operations, Hotel Operations Management, Accounting and Procurement, Sales and Marketing, and Housekeeping.
Hashil bin Obaid Al Mahrouqi, CEO of OMRAN Group, said: "The extensive interest of Omani youth in joining Midhyaf programme reflects their passion towards their future in the tourism and hospitality sector. During the coming period, we look forward to having all these passionate talents onboard, to be trained and developed comprehensively through a set of specialised courses at Oman College of Tourism in cooperation with a number of prestigious international institutes in this field. The programme will work on enhancing the participants' practical and professional competencies and capabilities, along with providing them with an in-depth on-the-job training in different hotels of OMRAN Group."
The evaluation and interview phase witnessed significant interest, and applicants of various educational degrees including general education diplomas, university diplomas and bachelor's degrees, showcased their enthusiasm to participate in 'Midhyaf' programme and compete for various hospitality jobs. The job interviews were conducted and organized by Human Resources teams at OMRAN Group and Oman Tourism College, in the presence of the hotel managers of the participating hotels, and under the supervision of the Ministry of Labour.
'Midhyaf' programme, which has been launched by OMRAN Group, falls under the umbrella of the Oman Investment Authority's initiative that aims to create more than 4,800 jobs and training opportunities in its owned companies, in cooperation with the Ministry of Labour. The 'Midhyaf' on-the-job training programme is considered a sustainable platform for the development of national cadres in various properties of OMRAN Group, giving Omani talents the opportunity to lead the Sultanate's tourism sector and advance it to broader horizons.