OMRAN GROUP Opens the 'Walk In' Creative Art Space
29 January 2023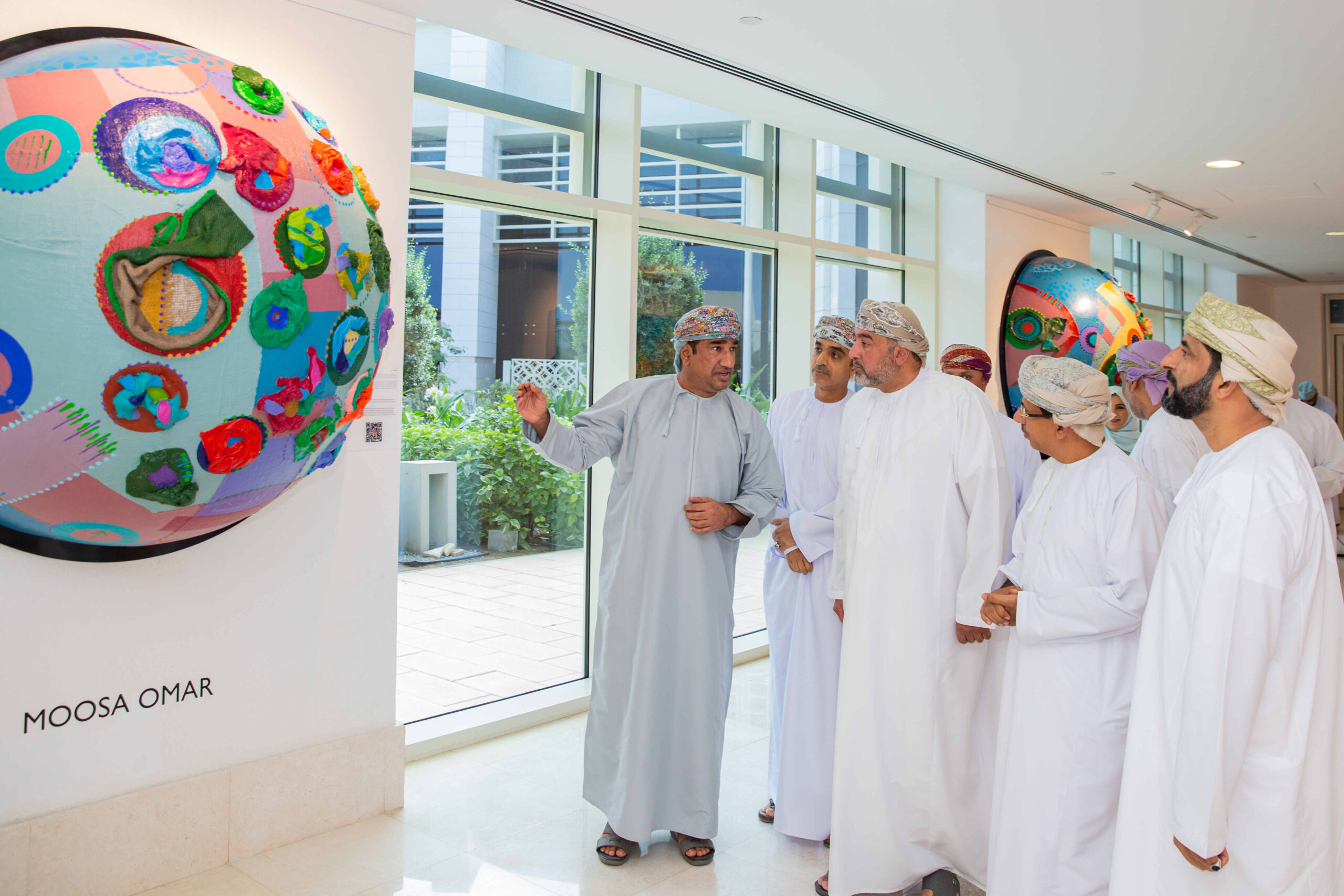 Oman Tourism Development Company (OMRAN Group) celebrated today the opening of the unique 'Walk In' Creative Art Space at The Oman Convention and Exhibition Centre (OCEC). This initiative falls within the framework of the 'Creatourism' programme, one of the Group's initiatives to promote Oman's rich and diverse art, culture and heritage in its various developments and hotels, as well as giving creative minds ample opportunities to showcase their talents. This art space is a permanent platform that will be used to display the works of prominent Omani artists.
The opening ceremony was held under the auspices of HE Sayyed Said bin Sultan Al Busiadi, Undersecretary of the Ministry of Culture, Sports and Youth for Culture, and witnessed the presence of the Chairman of the Board of Directors, OMRAN Group's CEO, and several officials and national artists.
Speaking on occasion, HE Sayyed Said bin Sultan Al Busiadi said, "The Ministry of Culture, Sports and Youth is working toward activating the cultural strategy (2021-2040) by supporting platforms and initiatives that promote Omani art and culture. In particular, those that achieve the eight values that underpin our strategy. By supporting these initiatives we delivering on the mission of our strategy. This encompasses organising and developing cultural works and creating the appropriate environment to foster creativity to strengthen the country's cultural identity".
"Supporting platforms that celebrate the creative work of Omani artists fulfil the values of the cultural strategy. This 'Walk In' Creative Art Space, and the 'Creatourism' initiative under which it falls, are exactly such platforms. They bring together creative minds from all over the country to showcase the breadth and depth of art, culture, and heritage in Oman while contributing to the growth and development of the country's tourism sector."
The art space, located at one of the main entrances of the OCEC, will serve as a permanent space that celebrates creative arts. Currently, it features more than 30 specially curated art pieces by talented Omani artists, including Alia Al Farsi, Anwar Sonya, Asila Juma, Budoor Al Riyami, Gaith Al Siyabi, Hassan Meer, Idris Al Hooti, Israa Al-Balushi, Majeda Alhinai, Marwa Al- Kaabi, Mazin Al-Harthi, Moosa Omar, Nada Al Masoudi and Ruqayia Al Balushi.
Hassan Meer, the Art & Culture Expert at OMRAN Group, commented on the Art Space, saying, "As part of our 'Creatourism' initiative, we aim to give local artists a platform to showcase their talent and celebrate their creative artworks. Moreover, we aim to leverage the initiative to enrich our assets with creative arts by local artists, utilising their skills and capabilities to enhance the country's tourist experiences, primarily through art and culture-related shops, exhibitions, and activities at our tourist facilities."
The OMRAN Group has continued to develop various programmes and activities, such as the 'Creatourism' programme, as part of its commitment to nurturing, inspiring and promoting promising local talent. Furthermore, these efforts contribute to preserving and showcasing the Sultanate's cultural heritage through the Group's numerous hotels and development projects. It also showcases the Group's commitment to its sustainability framework, which is based on four main pillars: economy, society, environment, and cultural heritage.