OMRAN Group partners with "Oman Infocus"
9 May 2021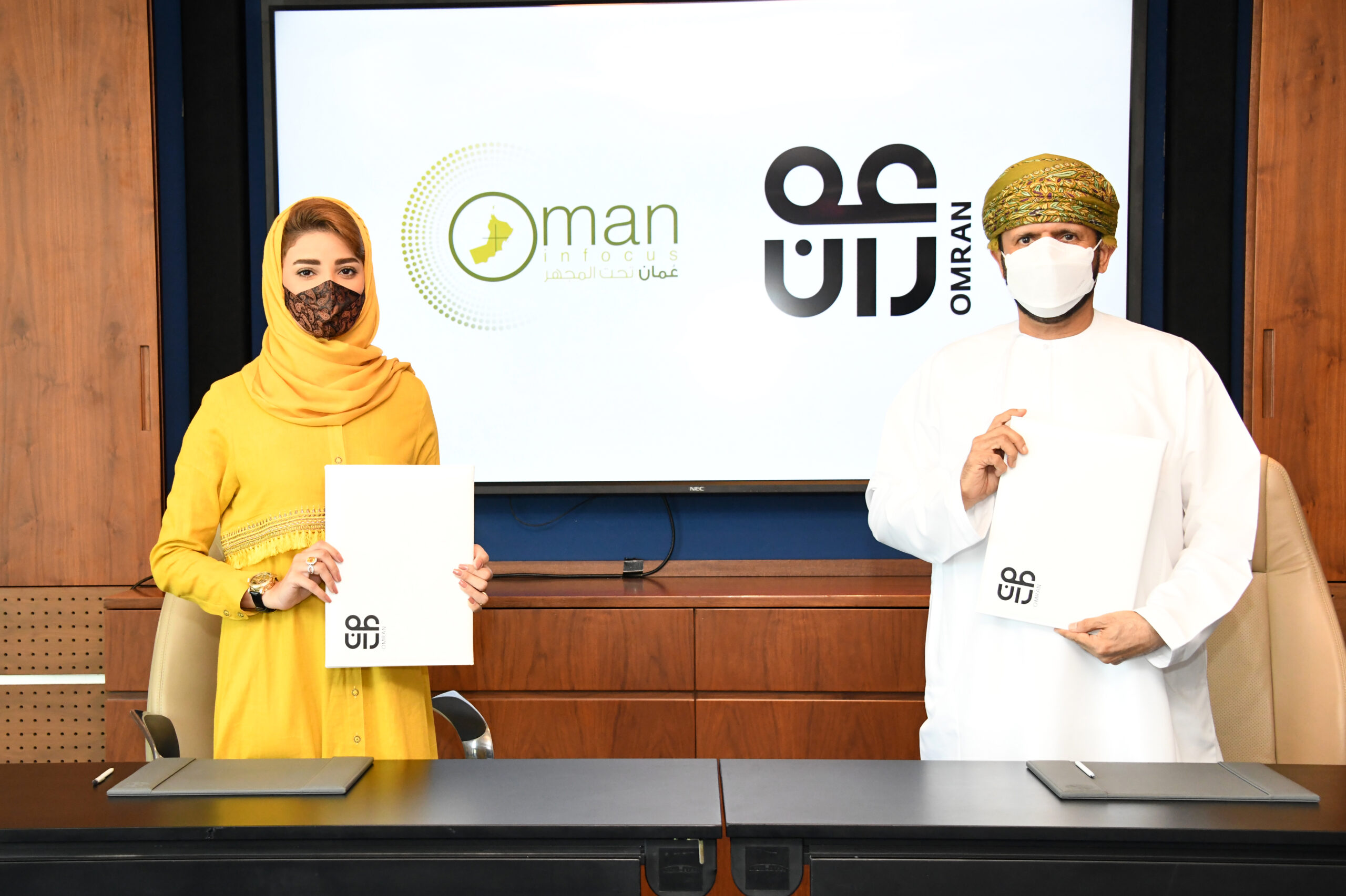 Oman Tourism Development Company (OMRAN Group) – the executive arm of the Sultanate for tourism development – has signed an agreement to support and sponsor "Oman in Focus" project to produce a series of documentary films that highlight the richness, the fascinating environmental diversity and the wildlife of the Sultanate, in partnership with many global and regional TV channel and networks.
The epic exploration project initiated by Oman in Focus under the title "Not Discovered Yet" will cover 12 landmark tourist destinations and encompasses a one-hour documentary – 'The Shoreline of Oman' and a Blue Chip – Two-part documentary series called 'Wild Oman', that will capture the essence of Oman's beaches, rare land and marine wildlife, carrying the audience on an extraordinary exploration of all corners of our fascinating country, from the top of the desolate escarpment to the bottom of some of world's richest seas. The film will be broadcasted on a number of Arab and international TV channels and broadcast networks.
"OMRAN Group's support for this project reflects the group's endeavors to  work in harmony with various stakeholders to promote the country's tourism sector, and in line with the of National Tourism Strategy 2040 which focuses on increasing the number of tourists to achieve economic growth." Said Mr. Qais bin Zahir Al Housni, VP of Government & Corporate Affairs at OMRAN Group.
"We hope that this initiative will help to raise awareness on the importance of preserving natural resources and ensuring their long-term viability, hence achieving alignment with the group's responsible and sustainable tourism practices. In addition, the collaboration reaffirms the commitment towards implementing OMRAN's sustainability framework across its various projects and initiatives, while ensuring the integration of its four main pillars: economy, society, environment and cultural heritage". Al Housni added.
Mrs. Maysa bint Fahad Al Houti, Director of "Oman in Focus" project, said: "The Sultanate is rich in natural beauty and aesthetics that have yet to be discovered. In this regard, the title of the third edition of our environmental initiatives was "Not Discovered Yet", where we seek to get creative ways to explore and highlight the sultanate's environmental and geographical diversity, which helps to draw visitors from all over the world, whether they are looking for leisure or nature and adventure experiences. The fan base of the TV channels and networks that will broadcast this movie around the will play a significant role in promoting the name of Oman and its natural and ecological treasures to a wide range of viewers around the world."
She continued, "We thank all of our partners for their productive collaboration in making this initiative a success, and we particularly thank OMRAN Group for providing logistical support by hosting those responsible for the film's preparation, shooting, and directing in a number of its hotels."
As a strategic sponsor for the project "Not Discovered Yet", OMRAN Group's hospitality assets will be serving as the hospitality partner for the project in providing the relevant venue support at the filming locations, , including Crowne Plaza Muscat OCEC, Crowne Plaza Salalah, Crowne Plaza Duqm, Ras al Jinz Turtle Reserve, Masira Island Resort and Atana Musandam Resort. The documentaries are expected to air on two international channels mid of year 2022.
OMRAN Group's hotel assets portfolio covers more than 25 hotels and resorts located in the Sultanate's most attractive tourism destinations in various governorates, thereby contributing to enhancing visitors' experiences by offering a variety of tourism products and entertainment activities that highlight the Sultanate's natural beauty and diversity.