OMRAN Group sponsors 'Secret Seas'
20 May 2021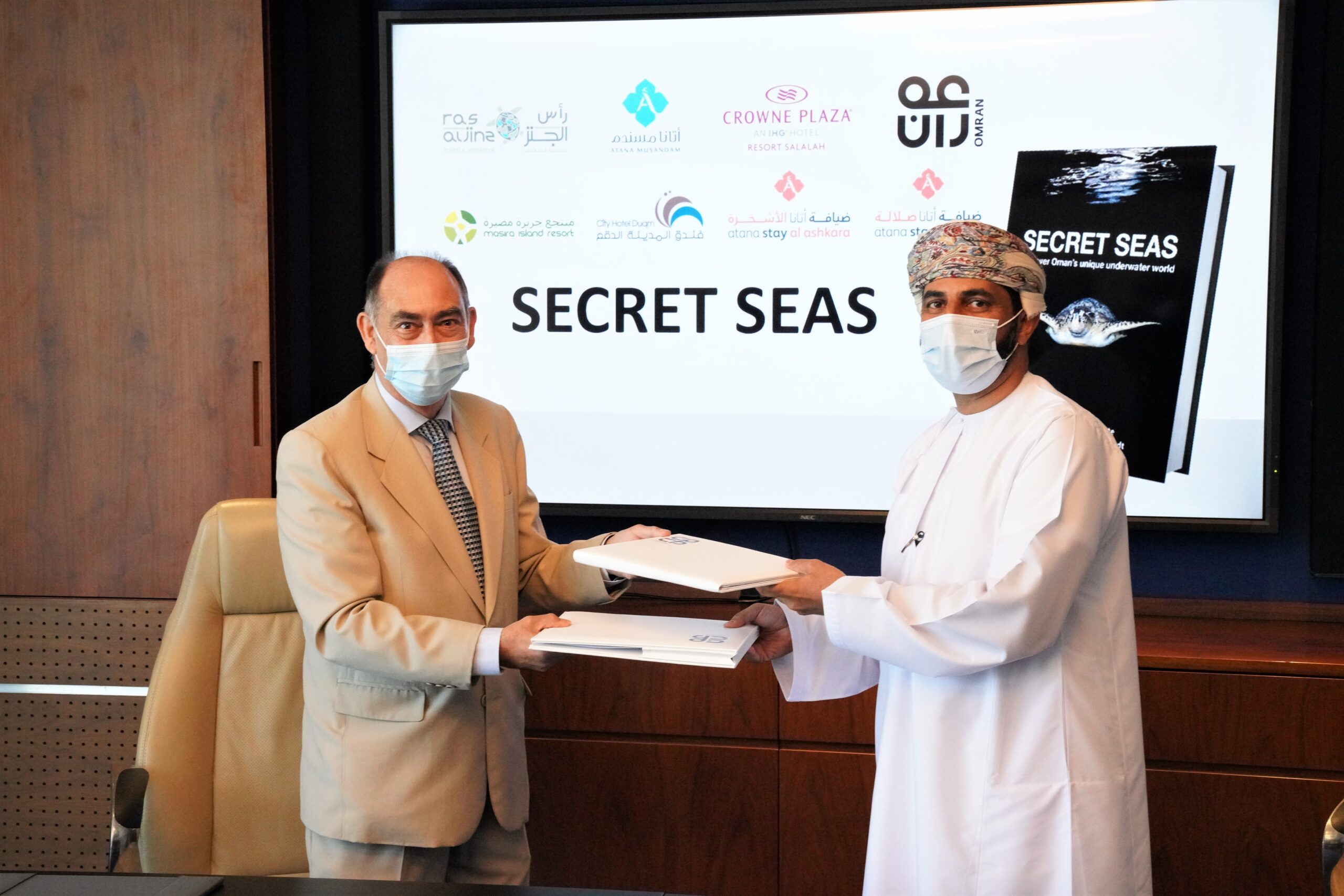 As part of the efforts to promote Oman's untapped natural beauty, OMRAN Group, the executive arm of the Sultanate for tourism development, has signed a sponsorship agreement to support the publication of 'Secret Seas' – the first ever large format photographic book to feature Oman's unique underwater world.
'Secret Seas' by Paul Flandinette, a professional underwater photographer and Michel Claereboudt, co-author and marine scientist is the culmination of seven years of inspiration in aqua-adventures and boasts an extensive library of underwater images taken in the country's most beautiful diving locations, including Khasab within Musandam governorate, the Daymaniyat Islands, Fahal Island, Bandar Khayran, Masirah Island, Mirbat, Salalah and the Hallaniyat Islands.
'We are delighted to have this opportunity to support 'Secret Seas', said Eng. Mohammed Salim Al Busaidi. Chairman of OMRAN. 'It is just one part of our commitment to communicate how special Oman is in every way. The beauty of Oman's seas and the diversity of its marine life are rarely seen by most travelers and adventure tourists. We hope that Secret Seas will act as a remarkable photographic record that reveals the country's marine treasures."
"Responsible tourism is at the core of OMRAN's tourism operations and corporate activities across its diverse portfolio of projects, hospitality assets and investments. This fruitful collaboration reflects our dedication towards sustainable practices and environmental initiatives. We hope that the library of images accumulated while preparing the 'Secret Seas' can create a legacy to help raise an awareness on the importance of preserving Oman's remarkable natural assets." Al Busaidi added.
"The underwater life in Oman is breathtaking. 'Secret Seas' book will take readers on a journey of discovery into an underwater world that most people never see. Through the book Michel and I wanted to reveal some of the hidden beauty of Oman beneath the waves and present it to the world," said Paul Flandinette.
"Oman's oceanography is truly special and is greatly influenced by the annual southwest monsoon, also known as the Khareef. This is one of the world's most powerful weather systems and creates and underwater environment that is, in many respects, unique," says Michel Claereboudt.
There are over 1,600 species of fish and nearly 200 species of corals in Oman. Whale sharks are regular seasonal visitors to Oman's waters, while Orcha whales, sperm whales, sailfish, marlin, manta rays and the enigmatic Mola Mola which make occasional appearances.
Four out the world's seven species of sea turtles find nesting sanctuary in Oman. One of the world's most important Green turtle rookeries is at Ras Al Jinz in north east Oman. OMRAN Group who operate the Ras al Jinz Turtle Reserve, collaborate closely with the conservation efforts of the Authority for Environment and help protect these beaches where, each year 10,000 to 20,000 Green turtles return to lay as many as two million eggs.
OMRAN has a clear sustainability framework which consists of four main pillars, economy, society, environment, and cultural heritage. The group owns, manages and invests in many tourist assets across the Sultanate amounting to 26 hotels and resorts with over 3,800 hotel rooms, ranging from luxury hotels and large-scale beach resorts to conference hotels and business hotels downtown, joint tourism as well as heritage and environmental destinations.