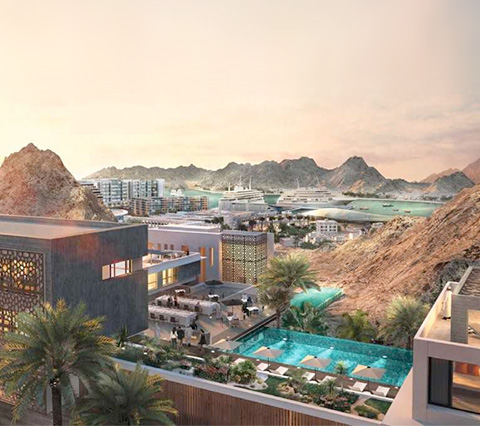 OMRAN Group creates sustainable and authentic tourism assets, lifestyle communities and destinations that drive economic growth and contribute to the diversification of the economy.
We achieve our mandate by acting alone or as a catalyst in bringing together the strength of Government with the entrepreneurship of the private sector.
We work with all stakeholders, partners, SMEs and local communities to ensure a positive physical, social, economic contribution to both the environment and people's lives while respecting the traditional culture and environmental values of Oman.
We are inspired by Oman's beauty, peace and hospitality.
As part of its strategy to diversify the economy away from a heavy reliance on oil and gas revenues, the Oman Government identified the tourism sector as one of the key drivers of future growth for the Sultanate.
Oman Tourism Development Company (OMRAN Group) was established in 2005 by the Government as the executive arm of the Sultanate responsible for delivering the objectives contained in the 2040 National Tourism Strategy. OMRAN Group works closely with the Ministry of Tourism and other Government entities to identify priorities, projects and opportunities that will maximise the potential of the Sultanate's tourism sector.
The Government provides OMRAN Group with funding, land and assets which are used to:

Develop and asset manage distinctive hotels and resorts.

Enter into Development Partnerships and with local and foreign developers and investors to create new tourism and mixed-use master planned communities.

Manage heritage, cultural and outdoor activity sites and experiences.

Develop and manage strategic tourism and business infrastructure such as the Oman Convention and Exhibition Centre which participates in the regional MICE industry.

Promote Oman as a destination through hosting international sporting events and emphasizing Oman's maritime heritage by competing in international sailing events.

Prepare Omanis for a career in tourism through training and educational programs at the Oman Tourism College.