The biggest mixed-use urban development project conceptualised, created and managed by OMRAN Group, Madinat Al Irfan is in line with the country's vision to promote sustainable urban destinations. OMRAN Group has devised a highly detailed masterplan framework for the city to create a catalyst for progressive change, offering a visionary urban layout inspired from Oman's rich cultural heritage and architecture. The 7.4 million sqm masterplan promotes placemaking and social sustainability– fulfilling the aspiration for the new destination to be a catalyst for change and a model for long-term resilience at the heart of Muscat.
Madinat Al Irfan consists of two major components; the vibrant Madinat Al Irfan East with a total area of 1.6 million sqm, reflects the pioneering role of OMRAN Group in placing the foundations of Madinat Al Irfan through the establishment of Oman Convention and Exhibition Centre and supporting hospitality components and business park. In addition to this is the upcoming Madinat Al Irfan West with a total area of 4.9 million sqm – a mixed-use strategic urban development project being established through a 50-50 development partnership between OMRAN Group and Majid Al Futtaim Group.
Destined to boost economic diversification in the future, Madinat Al Irfan is founded on creativity, innovation and ambition and designed as a place where companies, families, and travelers seeking quality experiences and activities come together.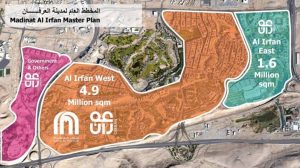 Madinat Al Irfan is the Sultanate's largest urban development project that reflects the government's vision to establish sustainable urban destinations that create solid foundations for future economic diversification and prosperity of Oman.

7.4 MILLION SQM
Total area of Madinat Al Irfan
5.7 MILLION SQM
Total Built-Up area – Phase One

4.9 MILLION SQM
Partnership in Tilal Al Irfan with Majid Al Futtaim