The Official Inauguration of Jumeriah Muscat Bay
4 December 2022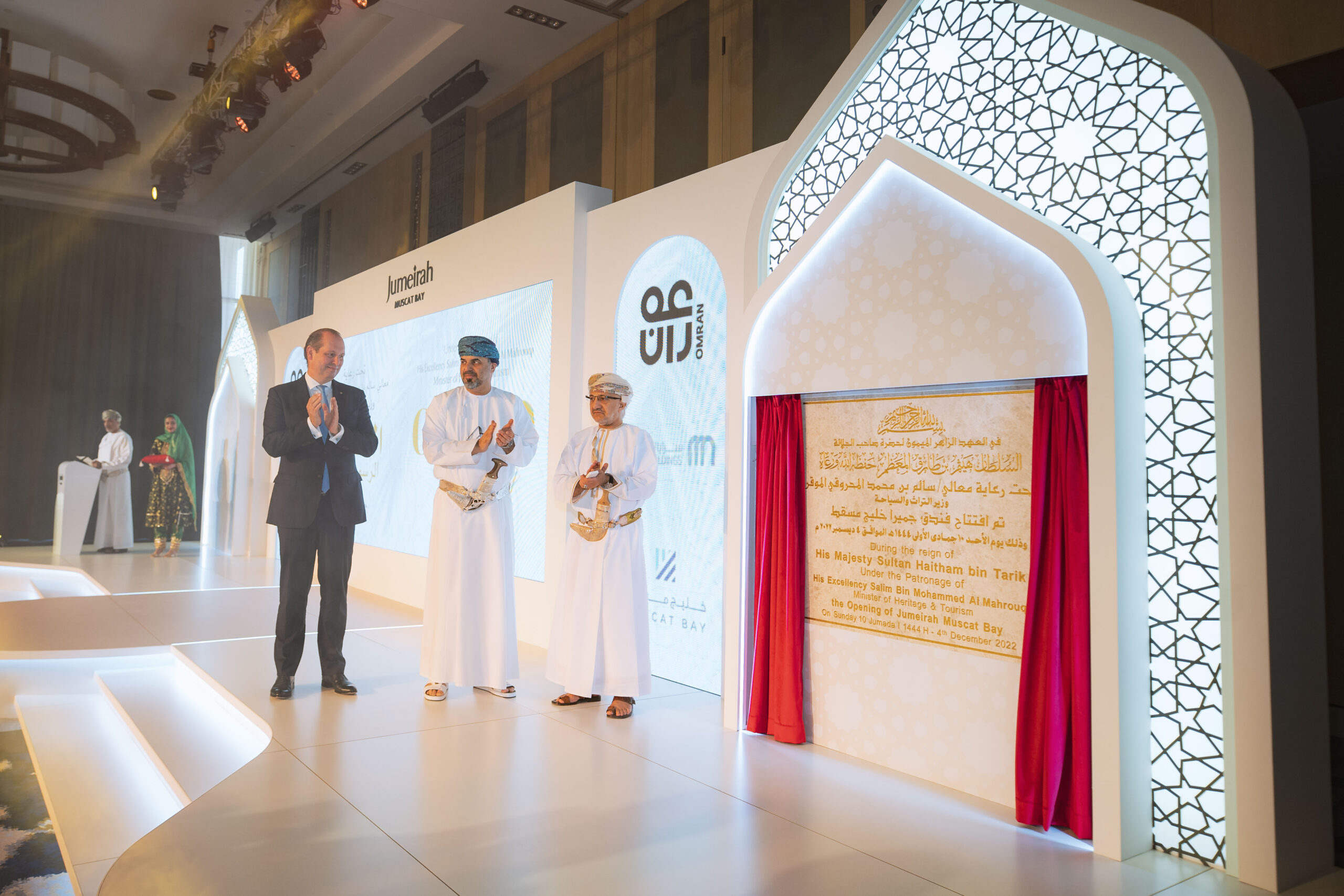 On the Occasion of the Sultanate's Celebrations of 52 Glorious National Day and under the patronage of HE Salim Bin Mohammad Al Mahrouqi, Minister of Heritage and Tourism, Oman, the 5-star beach resort hotel, Jumeirah Muscat Bay officially inaugurated today. The inaugural event was attended by key government officials and senior leaders from the sector. The resort set a benchmark for tourism development in Muscat Governorate and offers local tourism a new concept of hospitality to support the government's effort towards making the Sultanate a remarkable tourism destination.
As another step towards Oman vision 2040 and the efforts into achieving the objectives of tourism, Muscat Bay marks another milestone with its official opening of the luxury hotel. Built with an investment of RO 60 million and built-up area of 32,000 square meters. Jumeirah Muscat Bay is a unique tourism destination that provides more than 206 rooms with breathtaking views and an extraordinary offering with its hospitality and extensive range of hotel facilities including 3 swimming pools, kids club, spas and sports facilities.
Located within the general plan of Muscat Bay's fully integrated resort, this project resonates with the strategic partnership between Oman Tourism Development Company (OMRAN Group) and Saraya Oman Holding Company, and it considers as Jumeirah group's first luxury resort in the Sultanate. It will continue to expand its rich portfolio of hospitality assets and facilities and provide guests with a new experience of leisure and relaxation. In addition to attracting an increasing number of global visitors and investors who can consider the Sultanate of Oman a magnificent tourist destination.
Aligning itself with Oman Vision 2040 and national tourism strategy to support the national economy, Muscat Bay resonates with developing the domestic tourism sector through the creation of sustainable tourism projects. Muscat Bay has contributed since the start of the first phase by providing thousands of direct and indirect jobs. It has provided tourism, residential, commercial and recreational facilities in a total area of about 300 thousand square meters and total building area of about 140 thousand square meters at a total cost of OR185 million. The second phase which Muscat Bay intend to start developing next year, will contain tourist and residential facilities of modern nature that are compatible with the requirements of the current
phase. It will be spread over an area of 150,000 square meters and a total building area estimated at 100,000 square meters. The total cost is expected to be around 65 million Omani riyals. This phase will continue to provide an additional number of direct and indirect jobs through contractors, service providers and hotel operators.
In line with its effort to boost small and medium enterprises by providing job opportunities that contribute to the In-country value, Muscat Bay signed a number of collaboration agreements with SMEs. Under the first agreement, Muscat Bay will join hands with Q Tours Company to open its branch at Muscat Bay commercial area and provide the residents of Muscat Bay and Hotel's guests with trips and activities including scuba diving, water sports, private sea tours and corporate adventure day. The second agreement with UVL robotics to launch the first drone delivery services. As per the agreement, the company will provide the first food drone delivery to Muscat Bay residents and visitors. Moreover, it will develop the services to add more vendors and includes other products as well. In addition, Muscat Bay has signed an agreement with Sandiane International LLC to open Sandiane Pharmacy at the village square in the heart of Muscat Bay. This is going to be the first commercial pharmacy in Muscat Governorate.
A serene retreat set between the dramatic Al Hajar mountains and the sparkling Arabian Sea nestled within the secluded Bandar Al Jissah beach – located 15 minutes from Muscat -Jumeirah Muscat Bay combines sublime restaurants, stunning views, magnificent pools and Oman's finest beaches to deliver the ultimate adventurous wellbeing escape for tourists as well as residents looking to get away from it all.